Have Confidence in your Automotive Repair Center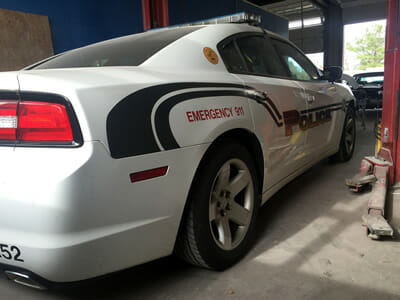 Knowing your repair center will figure out the problem with your vehicle and fix it properly the first time is a great feeling.
It removes the dread and discomfort when you can trust your repair center to listen to your concerns, diagnosis the problem, tell you what's going on with your vehicle and then repair it for a reasonable cost.
We are a family-owned and operated business. We enjoy building relationships with every one of our customers. We value your faith in us and our abilities. We appreciate your loyalty.
Our Promise to our Customers
For our maintenance and repairs, we promise the following to:
Diagnose and repair your vehicle swiftly and correctly using state of the art tools and equipment by ASE Certified Professionals.
Provide you an honest assessment of your vehicle's maintenance and repair needs.
Offer you an estimate before starting any work on your vehicle.
Deliver an affordable service or repair that is performed with the highest industry standards.
Stand behind the repairs we perform with our 24 month/24,000 mile Nationwide Warranty.

Maintenance and Repair Services
Our Repair and Maintenance Services include:
Mechanical Repair
Automotive Engine Repair or Replacement
Diesel Service and Repair
Clutch Repairs & Replacement
Steering and Suspension Service
Power Steering
Exhaust System
Transmission Service, Repair or Replacement
Cooling System Service (Water Pumps, Radiators, etc.)
Air Intake Cleaning & Filter Changing
No-Start Diagnostics / Driveability Diagnostics
Differential & Transfer Case (4WD) Service
Belt, Hoses and Wiper Blade Replacement
Timing Belt or Chain Replacement
Brake Service and Repair
Windshield Service
Drive Train
Specialized in European Car Repair
Hybrid Repair & Service
Wheels and Tires
Tire Repairs or Replacement
Wheel Balancing & Alignments
Tire Sales
Tire Pressure Monitoring Systems
Rotation and Check Tire Pressure
Wheel Balancing & Mounting
Electrical, Wiring and Electronics
Battery Replacement and Service
Anti-Lock Brake Service & Diagnostics
Computer Diagnostics (Check Engine Light, Air Bag Light, etc.)
Electrical and/or Wiring Problems
Interior / Exterior Lighting Replacement
Starting & Charging Diagnosis
Airbag and SRS Systems
Regular Maintenance
Tune-Ups, Air Filters, Fuel Filters
Oil, Lube and Filter Service
Factory Scheduled Maintenance (30K, 60K, 90K, 105K)
Fuel Injection Cleaning & Service
Preventive Maintenance & Fluid Flushes
Heating & Air Conditioning Service
Factory Scheduled Maintenance (A-service, B-service, 30K, 60K, 90K, etc.)
Transmission Fluid Service
Regular Maintenance based on your Driving Profile
Repair Services
Pre-purchase Vehicle Inspection
Used Vehicle Inspection
Fuel economy inspection